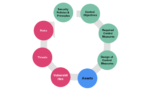 Chosing the right system is important and should centre around the mitigation of risks identified at your site or facility. Integra Trading's consultants will review your new sites concept masterplan or in relation to an existing or established site, what you already have against what your needs are in relation to the threats and risks identified as part of our holistic security consultancy approach or as a single piece of work. Integra will present an unbiased, independent and objective report and recommends the access control systems that will best serve your needs whilst interacting with the way your business operates.
Integra consultants are also able to help you put your access control system to tender ensuring that the options presented meet the needs identified and are of the right technical specifications. Additionally Integra can also project manage the installation and setup of any system alongside your chosen contractors.
Sorry, no content matched your criteria. Please LOG IN or Contact us!