Projects Management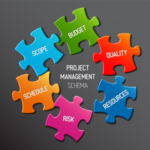 As a company oriented on results we mash together the best practice project management frameworks to get projects done in due time. As project managers, there are many ways to deliver projects. Our approach is to apply different principles, themes, frameworks, processes and standards to define the management models and combine methodologies according to the project requirements in a hybrid manner based on project complexity.
Using advanced management software and working with a team of PM professionals having many years of field and office experience we are able to complete projects from high end data and telecommunications technologies to the environment and sustainability area.
What it really matters in the end is our commitment of doing quality work which meets user needs and deliver great value to our clients.
Cities are at the centre of digital developments because of the proximity and concentration of people, consumption, construction and mobility.